Description
Salvation and Restore work together to help dog owners with At Home Care. Each duo treats punctures, itching, scratching, hot spots, ear infections, wounds, bug bites, yeast, bacteria, and much more.  
Salvation and Restore Duo: Two jars of happiness, one effective, all natural first aid kit for your dog.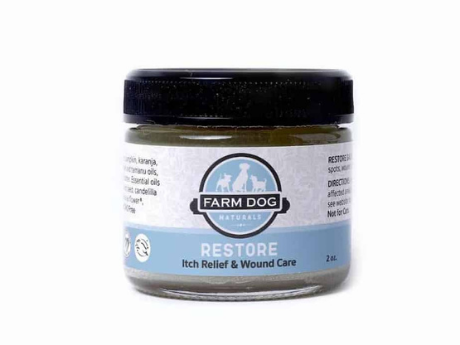 Restore
Stops itching so your dog will stop licking their paws.
Helps keep secondary infections from occurring.
Treats flea dermatitis reactions, bug bites and rashes.
Heals punctures from the inside out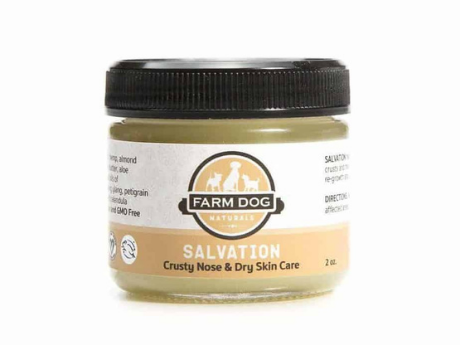 Salvation
Treats dry flaky skin and topical inflammations.
Smoothes crusty dog nose in as little as 5 days.
Clears up yeast on your dog's skin and ears.
Works quickly to restore raw paw pads.
Ingredients
Salvation's Simple Herbal Ingredients: Organic coconut, Organic olive extra virgin, almond and apricot kernel oils. Mango, Organic Shea, and Aloe butters. Candelilla wax and organic calendula herb. Essential oils of organic petitgrain, ylang ylang, organic peppermint and organic lavender. Organic vitamin E. All ingredients are GMO-Free.
Restore's Simple Herbal Ingredients: Cherry kernel, organic rose hips oil, organic hemp, almond, apricot kernel, organic pumpkin, karanja and organic neem oils. Unrefined Shea Butter. Echinacea, yellow dock and catnip herb. Essential oils of carrot seed, frankincense and Geranium. Organic vitamin E.
All of our ingredients are non-GMO, cruelty-free and vegan-friendly.
Natural Product Alert! Farm Dog infuses herbs into our formulas. You may occasionally see a small piece of herb in our salves.